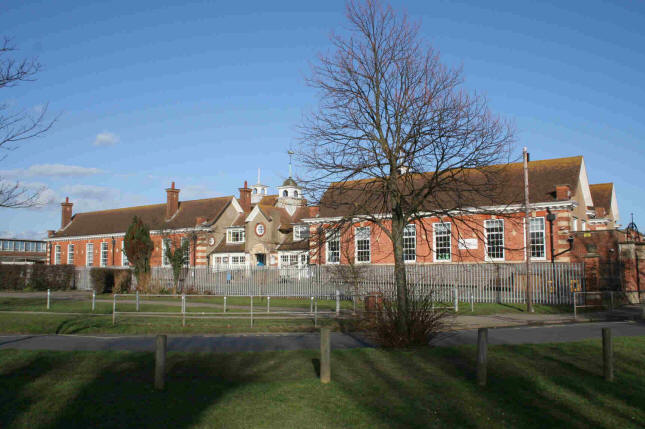 King Offa Primary Academy as it is today was formed in September 2012, when it became an Academy under the Aurora Trust Banner. Previously the school was known as King Offa Primary School after the amalgamation, in September 1997, of the Down County Infant School and King Offa County Junior School under the headship of Mr G Weston.
The children are taught within the main school building (part of which is over one hundred years old). We also have the benefit of additional teaching rooms in an outside block known as Camelot, and a self contained library in a separate outside building.
We have approximately 300 children on role of mixed ability in 10 classes. Our maximum class size is thirty in Key Stage 1 and 30 in Key Stage 2, although we have an average class size of 26 in KS1 and 29 in KS2. We have a large experienced staff and each area of the curriculum has a member of staff responsible for it's development. We also employ a number of support staff to ensure that teachers are supported in the classroom.
Our intake is wide and varied and we serve both local authorities and housing association dwellings as well as private owner-occupier accommodation. We have a reputation for inclusion and dealing with children with complex and special needs and are involved in a variety of county support services with some of these children.
We have made a large commitment to Information Communication Technology and we have equipped our school with over fifty computers available for curriculum use, one in each classroom and an IT suite of thirty machines, scanner and digital cameras. All the school computers have access to the Internet and are networked through a "server". We have a full time Network Manager, who staffs the suite and also provides some curriculum support.
We endeavour to run a range of after school extra curricular clubs.
A programme of International links has been set up. We have active links with a school in Sweden, students from which have visited Bexhill on several occasions.
Other links are with Brighton University and Sussex University and on average we have some ten student teachers a year. We have support within the local area and work on projects together with our local secondary schools. There are very close links with Bexhill High School to which most of our children go for their secondary education.
We were a pilot school for the "SEAL" initiative (Social & Emotional Aspects of Learning) and we are part of the Intensifying Support Program.
We have an extremely supportive Parent Teacher Association known as King Offa School Association (KOSA) who organise various activities to enhance the school in financial, educational and social terms.
The children are an exciting mix and there is a good cross section of society reflecting the community we serve.
The move of Bexhill High School to a new building in Gunters Lane meant that we were unable to use their kitchen and dining room facilities. Lunches are now served on site, being prepared and cooked in a new, purpose built kitchen.